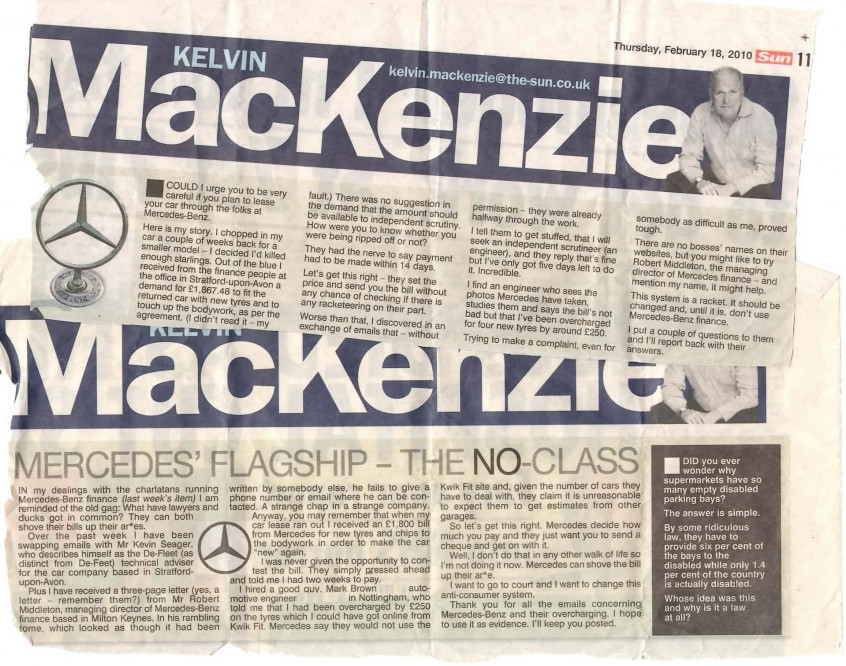 In the papers…
Case Study:  Kelvin McKenzie of The Sun newspaper approached me when he thought he'd been overcharged for the condition of a car he had returned to Mercedes at the end of its contract hire period.
Result:  I helped explain what reasonable costs Mercedes could charge from my Client in accordance with his contract with them and the relevent Fair Wear & Tear Guidelines and also where he had, in my opinion, been overcharged to enable him to achieve some savings.
On the silver screen…


Case Study:  One of approximately 16 occasions I was consulted by BBC's Watchdog, this time to investigate complaints that Vauxhall's Vectra & Signum handbrakes were disengaging of their own accord.
Result:  Following refusal to accept a fault existed or that anything needed doing to prevent the claims that their handbrakes were releasing themselves as claimed by those believed to have been affected by it, I attended a lengthy meeting with the BBC, Vauxhall's Engineers from Germany & their PR department and VOSA after which the owners of 236,284 cars were issued with stickers to apply to their sun visors and letters telling them how to apply a handbrake and that was followed by a full VOSA Safety Recall.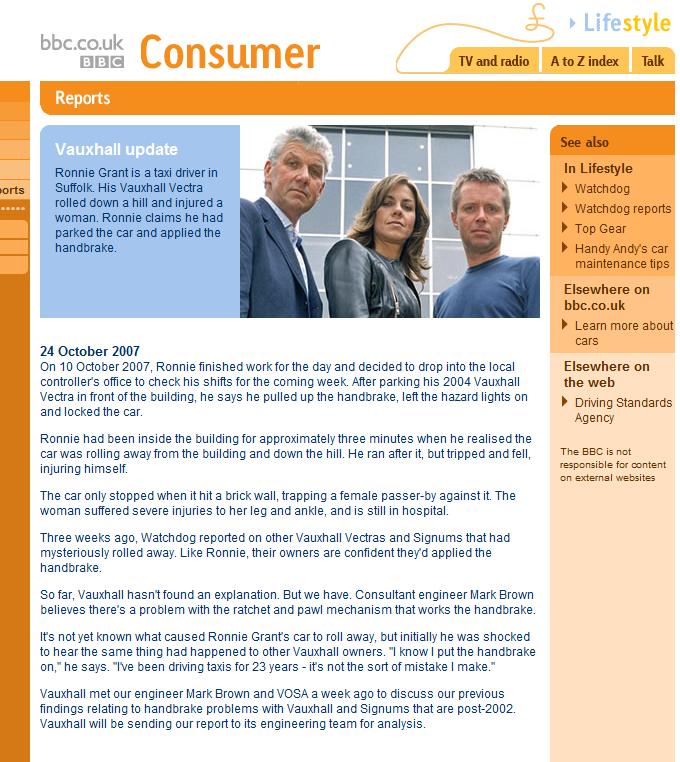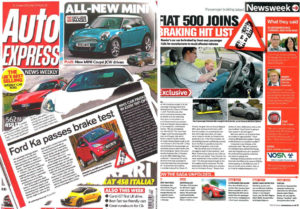 On the pages of a magazine..


Case Study: AutoExpress and BBC's Watchdog approached me to investigate a serious fault with the braking system on a number of cars including Fiat's new, funky 500 range.
Result: Ford's KA which is built on the same platform as the Fiat 500 did not suffer from the same problem which I discovered existed on other cars and a number of VOSA Safety Recalls were issued on a range of Manufacturers' vehicles affected by the fault.
For the racey…


Case Study: Consequences of the faulty workmanship of a garage who overhauled a Client's race-bred Subaru Impreza engine led to a number of minor partial failures and, ultimately, catastrophic engine failure. After initially reporting on the matter which became litigious, I provided Answers to an incredible and disproportionate total of 125 Part 35 Questions set by the garage's lawyers and had a Joint Statement to agree with the garage's own Expert who couldn't or wouldn't agree with my conclusions but didn't, in my opinion, offer any meaningful justification of any alternative view he had on any issue. I produced a Joint Statement with him setting out for the Court what very little we were able to agree,



what we were unable to agree and the reasons for our disagreements which consisted of 38 pages of technical content.
Client: "May I take this opportunity of thanking you for your considerable patience when dealing with [Defendant's Expert], which is obvious from your Joint Statement" and later "I am pleased to advise that the Defendant's solicitors…have finally agreed settlement…which could not have been achieved without your assistance."
For the hard done by…


Case Study: My Client bought a second hand car from a dealer with which she experienced very many faults and so instructed me to examine the vehicle thoroughly and produce a detailed Satisfactory Quality report.
Client: "What an amazing report you have done" and "what a fantastic report you have made and I am so very grateful"
Result:  A successful rejection of the car and refund negotiated to my client's satisfaction.
Case Study: Another Client bought a brand new car which had a paint defect that the selling dealer had attempted to put right on at least three occasions but made such a hash of it they had ruined the car and my Client's experience of owning it as a new car. My technical report on the paint fault, the substandard quality of repair and the vehicle's Satisfactory Quality followed my detailed examination of the vehicle.
Client: "Thank you for the report, seems fine…"
Result: The report enabled a negotiated settlement with the selling dealer to my Client's satisfaction.



Case Study: Yet another dodgy car bought by a Client and following a comprehensive examination of the car, its history and all the facts I wrote another Satisfactory Quality report and subsequently reported on the garage's formal Defence.
Client: "I have read the report and feel quite shocked. I cannot believe that there had been a brake fault before…the report is fantastic…thank you for working so hard on it…I appreciate both your professionalism and integrity" and "...it's a great thing to read…thank you once again for your professionalism and your great common sense which you have in no small measure…thank you so much".

Case Study:  A garage fouled up fitting a cambelt causing extensive internal engine damage.
Client:  "…I think your report is excellent and very professional…"
For the frustrated…


Case Study: My Client took her car in to a main dealer to have the brakes checked out and MOT Tested.  The car was returned by the main dealer with defective and dangerous brakes and, incredibly, an MOT Test Pass Certificate containing an Advisory Notice that the brake pedal has excessive free-play and the condition of the brakes is dangerous!  Having identified excessive free play and a spongy feel to the brake pedal I thoroughly examined all aspects of the car's braking system, stripped & cleaned the brakes, reassembled them, set up the service & park brake adjustment and bled new fluid through the hydraulic system purging the old fluid and any air that was present from the hydraulic circuit.  My work and my report enabled my Client to now have peace of mind that her brakes are now safe and to recover the cost of my report and receive a full apology from the dealer.



Client: "It's perfect! It puts it into black and white about their failings that they have so far denied", "Thank you so much for the report" and "…they have agreed to pay in full for the work you did and for your report in full…" and "…just wanted to let you know how grateful we were to get the car sorted so I felt happy driving it."
Result:  Safe brakes, reimbursement by the sealer for the cost of my report, an additional year on the service contract and next year's MOT free of charge
For a new client…


Case Study: For a new Client, I traced two vehicles alleged to have been involved in an accident. The moment I managed to make contact with those storing the Third Party Claimant's car they suddenly developed an urgent need to get rid of it and so I immediately drove the 120+ miles to examine it before it could have been disposed of. Following an examination of the other car alleged to have been involved in the accident and a detailed compatibility & consistency study of the damage I produced a comprehensive Court compliant report enabling my Client to reduce their liability to just the few hundred pounds of damage which was actually caused in the collision between the two vehicles rather than the thousands claimed for a substantial amount of unrelated damage which I was able to prove had been present prior to this collision, unnecessary recovery, storage and replacement hire costs. My report on this matter, as with most cases on which I work, is CPR Court complaint for use in litigation if it came to that.
Client: "Finally had the chance to read your report and its spot on. Absolutely what we needed and thanks for your endeavour in getting this completed so quickly, it is really appreciated." and "it looks great…"
Case Study: The second new job I did for the same new Client whose case I refer to above was similar in most respects to the first and I produced my usual evidentially strong Court compliant report.
Client: "That's brilliant. Thanks for reporting back to me so quickly."
But all very happy as my next client also turned out to be the help of an evidentially strong report…
Case Study: Another catastrophic engine failure, this time on a tractor and which was the consequence of faulty workmanship employed during an engine repair. My report was so evidentially strong my Client's case was not contested.
Client: "I would like to express thanks on behalf of the Board of [Client's organisation] for the excellent work you have done for us and I would not hesitate recommending your services to others".
Result: A settlement was negotiated to the entire satisfaction of my Client.